Alcohol ablation of the heart – Case report
Keywords:
invasive cardiology, ablation of the heart, angiography, coronarography
Abstract
Abstract
Alcohol septal ablation (ASA) is a minimally invasive, non-surgical treatment for hypertrophic cardiomyopathy. This condition causes the heart tissue to thicken, restricting blood flow. Reduced blood flow causes symptoms such as shortness of breath and fatigue. Alcohol septal ablation restores normal blood flow by damaging and shrinking the thickened tissue. The procedure does not damage normal tissue. Providers perform this procedure on people who have HCM and, despite medication, have symptoms of shortness of breath and/or fatigue with exertion.1
Alcohol ablation has been successfully used in the ablation of ventricular tachycardiaventricular fibrillation, and atrial fibrillation. 2
Material and Methods
The procedure is performed under the control of the Toshiba Infinix discoscope, in the coronary angiography program. Diascopy parameters are 86 kVp, 800 mA, fluoroscopy: 5 fr/sec, radiography 10 fr/sec, pulse width 12 bit, matrix size 1024x1024. The procedure was performed in the RAO 30° CRANIAL 30° projection, and with a magnification of 20 cm. Visipaque 320 contrast agent was used, which was injected via the MEDRAD Avanta automatic injector. Contrast injection parameters were flow rate 2 ml/s and volume 4 ml. A total of 120 ml of contrast agent was given. To confirm the results of AA, ultrasound contrast agent SONOVIEW was used. Monitoring of contrast flow through the myocardium was done with a SIEMENS ultrasound device.
Case study
The patient, 65 years old, is hospitalized at the Department of Interventional Cardiology for an invasive cardiac procedure under the diagnosis of hypertrophic obstructive cardiomyopathy. Echocardiography after the procedure: The left atrium is dilated and elongated. Mitral valve morphologically sclerotically changed, functionally mild to moderate MR 2+ (VC 4 min) Left ventricle of regular dimensions, concentrically hypertrophic walls. Type 3 SAM is being verified. Preserved left ventricular systolic function (EF 60%).
Conclusion
We present the case of an elderly patient with symptomatic obstructive hypertrophic cardiomyopathy. Despite the modification of drug therapy, significant obstructive pressure in the outflow tract of the left ventricle still persisted. After adequate preparation, septal alcohol ablation is performed with echo control of the procedure. Postprocedurally, the dynamics of cardioselective enzymes are monitored with ultrasound verified hypokinesis of the S2 irrigation area. Due to intermittent complete AV block, a permanent electrostimulator is implanted. At the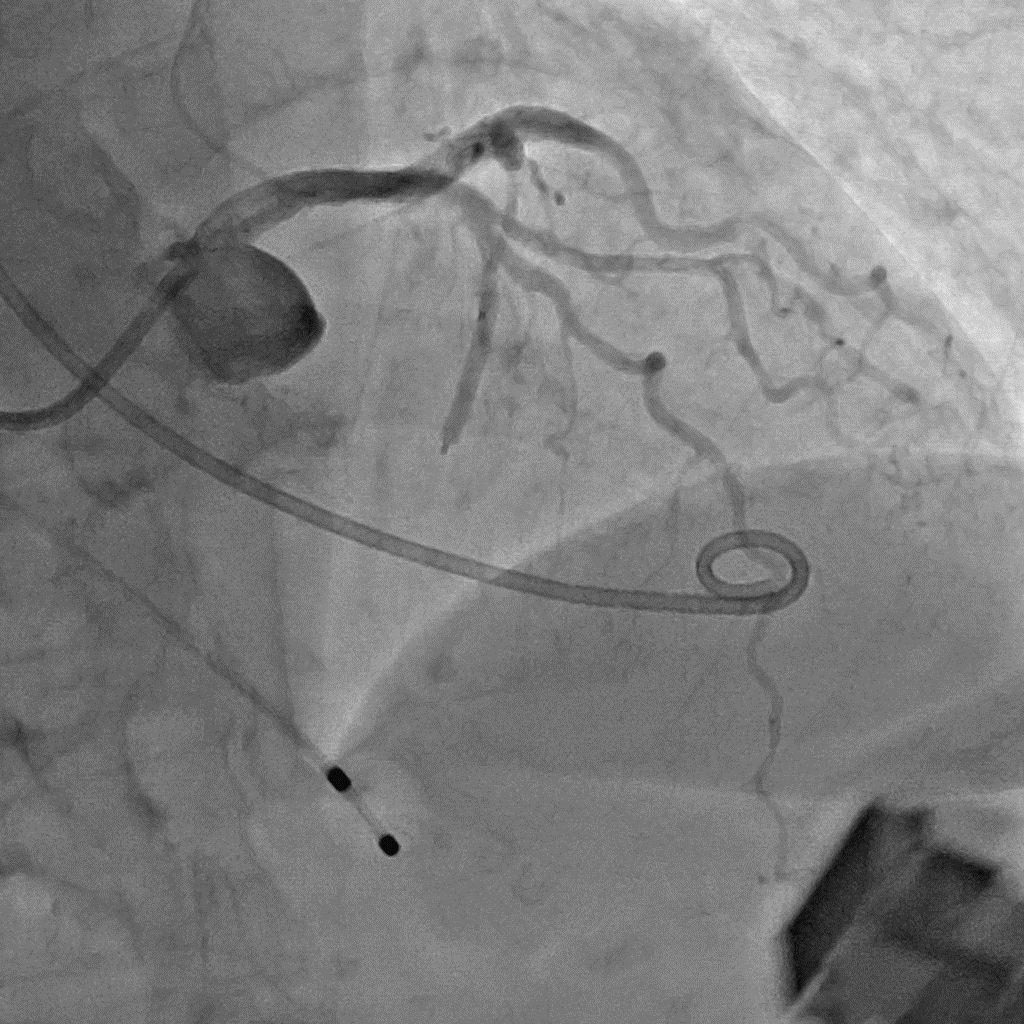 Downloads
How to Cite
1.
Porobić H, Tomić D, Hujdur M, Porović E, Jusić O, Horozić D, Prevljak S, Redžepović A. Alcohol ablation of the heart – Case report. isnn.26373297. [Internet]. 2023Nov.5 [cited 2023Nov.28];14(1). Available from: https://www.uimr.ba/journal/index.php/rt/article/view/51
License
Copyright (c) 2023 Haris Porobić
This work is licensed under a Creative Commons Attribution 4.0 International License.
Copyright & licensing:
This journal provides immediate open access to its content under the Creative Commons CC BY 4.0 license. Authors who publish with this journal retain all copyrights and agree to the terms of the above-mentioned CC license.