The mechanical thrombectomy during coil embolisation of the ruptured intracranial aneurysm
Mehanička trombektomija prilikom koilovanja rupturirane intrakranijalne aneurizme
Keywords:
mechanical thrombectomy, interventional neuroradiology, magnetic resonance imaging, computed tomography, mehanička trombektomija, interventna neuroradiologija, magnetna rezonanca, kompjuterizirana tomografija
Abstract
Experience in managing thromboembolic complications of distal blood vessels during coil embolization in the case of subarachnoid hemorrhage (SAH) is still limited. This is the presentation of the case of a 23-year-old man with a ruptured small aneurysm who experienced thromboembolic occlusion during coil embolization. Mechanical thrombectomy resulted in complete recanalization of the occluded branches without ischemic complications. This case should be used for the use of mechanical thrombectomies as an effective rescue strategy and treatment of distal arteries occlusions of the brain.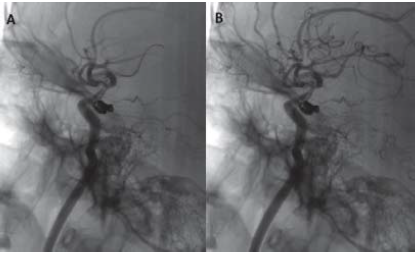 Downloads
How to Cite
1.
Bulja D, Abud OA, Jusufbegović M, Vegar - Zubović S. The mechanical thrombectomy during coil embolisation of the ruptured intracranial aneurysm: Mehanička trombektomija prilikom koilovanja rupturirane intrakranijalne aneurizme. isnn.26373297. [Internet]. 2020Nov.7 [cited 2021Oct.21];11(1):41-3. Available from: https://www.uimr.ba/journal/index.php/rt/article/view/14
License
Copyright (c) 2020 Deniz Bulja, Odej Ali Abud, Merim Jusufbegović, Sandra Vegar - Zubović
This work is licensed under a Creative Commons Attribution 4.0 International License.