The significance of mammography and ultrasound examination in the diagnosis of breast cancer
Značaj mamografskog i ultrazvučnog pregleda u dijagnostici karcinoma dojke
Keywords:
mammography, breast ultrasound, breast examination, screening, mamografija, ultrazvuk dojke, pregled dojke, skrining
Abstract
Introduction: Mammography represents a very accessible diagnostic method that has been accepted as the initial method of examining women over the age of 40 worldwide. It is a method with a high percentage of accuracy (80-90%) in the detection of breast cancer in patients without symptoms. However, there may be a significant overlap of mammographic presentation of benign and malignant changes in the structural tissue of the breast. The ultrasound method of breast examination is invaluable in breaking down between solid and cystic changes, as well as for clarifying palpable lumps in the breast. In almost 98% of cases, ultrasound examination can distinguish whether it is a benign or malignant change. The aim of this study is to prove the correlation between mammography and ultrasound methods of breast examination.
Material and methods: The examination was performed as a retrospective - prospective descriptive study in the Department for radiological and ultrasound diagnostics of the Derventa Health Center. The study included 80 female respondents who consented to the recording. Based on the performed ultrasound and mammography images, a qualitative analysis was made. A comparison of the sensitivity of the breast imaging between mammography and ultrasound imaging was performed.
Results: Comparing mammography and ultrasound examination according to BI-RADS classification, based on Pearson's correlation coefficient, we concluded that there is a strong correlation between these two tests (r = 0.743), which is statistically significant (p <0.005). The correlation, in addition to having a strong connection, moves in a positive direction, that is, by increasing the value of BI-RADS of one diagnostic procedure, there is an increase in another.
Conclusion: By analyzing the obtained results, we can conclude that mammography and ultrasound methods of breast examination are complementary methods, which complement each other, and which are not perfect. However, these two methods certainly have their place in breast cancer screening.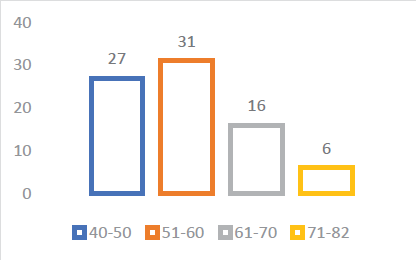 Downloads
How to Cite
1.
Petrić M, Šehić A, Čatović I. The significance of mammography and ultrasound examination in the diagnosis of breast cancer: Značaj mamografskog i ultrazvučnog pregleda u dijagnostici karcinoma dojke. isnn.26373297. [Internet]. 2020Nov.7 [cited 2022Dec.3];11(1):23-9. Available from: https://www.uimr.ba/journal/index.php/rt/article/view/11
Section
Research articles
License
Copyright (c) 2020 Mirko Petrić, Adnan Šehić, Ismira Čatović
This work is licensed under a Creative Commons Attribution 4.0 International License.